Electronic Party Games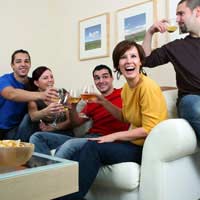 Traditionally, people would play board games, card games or other parlour games when at a party or social gathering, but now interactive electronic games are becoming far more popular. These can range from small handheld games to larger physical console games and all can make their own addition to the enjoyment level of a party.
Handheld Electronic Games
Getting everyone to join in at a party can often prove to be difficult but, with some simple fun games, you'll often find that people become more willing to play, especially if they see how much fun others are having. A great interactive handheld party game is Bop It, which can be bought in various versions from most toy stores. The game has proven to be so successful that it's had numerous incarnations and has continued to develop over time to become more challenging. Bop It is basically a toy that is passed around a group of people who each have to perform the command it executes in the allotted time. The time is counted in music beats and you'll be asked to bop it, twist it, pull it or flick it. The Bop It machine has all these interactive areas on it, which must be touched in time or you'll be out. It's a fast fun game that can easily be picked up and played by any aged player.
Another great handheld electronic game is Lightning Reaction. This is a game where four players must all take a joystick that is attached to a central base unit. The object of the game is to be the quickest draw, where drawing means you must press the red button on your joystick before anyone else. When the central base unit turns green, you must draw and the person who is the slowest will receive a nasty electric shock through their joystick. Not for the faint hearted, Lightning Reaction can be a fun, if painful, party game experience.
Console Party Games
Most households now have some kind of games console in them and these can be great fun for party games that get everyone involved. Some of the most popular games of recent years have been games that invite players to dance, sing and move around in front of their TV screen playing a game on their video console. For great family fun, you can't beat dance games such as Dance Dance Revolution or Dancing Stage Megamix on the Playstation and Xbox console platforms. The beauty of these dance games is that once you buy them and the dance mat to play them on, you will often be able to use the mat for other dancing games that are subsequently released. They are great fun and any age can join in as there are various modes from beginner right through to advanced.
Guitar Hero
Likewise, other music games such as Guitar Hero can provide hours of fun at parties. Guitar Hero comes with a guitar shaped interactive controller that allows you to release your inner rock star. There are now a few different Guitar Hero releases available on both the Playstation and Xbox 360 and they are sure to raise a laugh from those playing.
Some older games that are still available, such as Donkey Konga and Samba De Amigo require players to tap or shake along to the beat of the music on the screen. If you have extra controllers, you can battle it out with other players, or work as a team to defeat the computer. Either way, they all provide hours of fun for the family or for party guests.
Interactive Quiz Games
Some of the best party games are quiz games and there are a multitude of electronic games available to buy now. Most are based on their popular TV counterparts such as Deal or No Deal or Who Wants to Be a Millionaire and are often DVD based or can be bought as electronic base units that will keep score and even ask questions.
Other popular interactive quizzes can be found on the Playstation 2, where the game show Buzz has become a best seller. When you buy any Buzz game, you also buy four interactive buzzers to play with. You then start the game and players compete to be the quiz champion by answering questions that are asked by the host on screen. You must buzz in to win the chance to answer questions and the beauty of Buzz is that there are various versions available now to play. The most popular tends to be the general knowledge releases such as 'The Big Quiz' and ' The Mega Quiz', although you can also buy a sports quiz.
The Future of Party Games
Interactive electronic games appear to be the way forward for future party games and social events. The introduction of consoles such as the Nintendo Wii, which encourage team interactive play, means that more and more games will be released that are to be played by numerous people at once. The beauty of these electronic games is that new versions can be released to keep them fresh and they are usually suited to any age and experience level.
You might also like...