Monopoly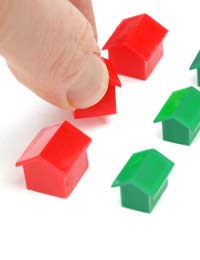 The board game of Monopoly is the best selling board game (commercially) of all time. It is also the best known economic board game in the world and has been on sale since 1935. Monopoly was originally called The Landlords Game and made by a woman (Elizabeth Magie) in the early 1900's most suggest around 1903 and patented in 1904. The game was made in an attempt to simply show the evils of large scale monopolies. After Parker Brothers bought the rights to the game in the mid 1930's there was some confusion as to who had invented it, with Charles Darrow often credited with the deed.
Playing Monopoly
Once set up, playing Monopoly is simple, given it is essentially a case of landing on squares and purchasing them, not purchasing them, paying a rent on them or following an instruction such as drawing a card or playing a bill.
Before play begins, players choose one of ten metal playing pieces consisting of a wheelbarrow, battleship, boot, thimble, car, cannon, Scottie dog, iron, horse rider and top hat. A banker is chosen (this player takes care of the bank money, but may also play) and the money is divided between players (note this is based on the British version of the game).
2 x £500
4 x £100
1 x £50
1 x £20
2 x £10
1 x £5
5 x £1

Relevant cards are placed face down on the board (Chance and Community Chest). The player rolling the highest total on both dice goes first and play continues in a clockwise rotation. Each player rolls both dice and moves that number of squares. The overall idea of Monopoly is, as the name suggests, to try and monopolise the property market on the board and thus making money from other players who must then pay rent. Landing on an available property means the player may choose to purchase the property, with the idea being to make sets of three matching coloured properties. Once a player owns all three in the set he / she may begin to build on the squares by purchasing houses and eventually hotels at the beginning of their turn (money allowing). Once a property is owned, any other player landing on that space must pay the owner a fee, this fee is shown on the property card and is dependent on whether a set is owned or built upon.
Scoring in Monopoly
Scoring in Monopoly is based on money, given the economic nature of the game. The player that amasses the most money at the end of the game is the overall winner. Due to the way play unfolds, a game of Monopoly can last anything from around an hour to an ongoing back and forth of many hours. Tournaments are generally allotted a time limit of 90 minutes and the winner is then determined by net worth. This is a good way of ensuring an end to the game.
Monopoly Variants
Given the overall popularity of Monopoly, it is hardly surprising that the game has so many variations of those actually sold, from world and city editions, to children's versions, TV tie-in editions, limited editions, movie editions, electronic editions, travel editions and even an edition that sees you create your own board.
House Rules for Monopoly
There are various house rules that can be utilised in Monopoly, probably the most famous of these is the Free Parking rule. At the beginning of a game, players agree to make the Free Parking space a jackpot space and all money accrued to the bank during play is placed under the Free Parking corner of the board (the money consists of fines paid etc). Any player landing on the Free Parking space during play gets to take whatever money has accrued thus far. This rule can greatly change the game and is a lot of fun to add.
Another popular house rule in Monopoly is that players cannot gain monetary wealth whilst in jail. Nor can they conduct business such as building houses and hotels on spaces owned. In addition to this the players may also make the fine payable to exit jail larger than stated in the rules. They may also tweak the rolling of doubles rule wherein a doubles roll sees the player freed from jail immediately (or not).
Games Champ is sponsored by Purely Energy, who have funded a lot of our content. If you are looking for a low cost business energy supplier, take a look at their website.
GAMES CHAMP IS FOR SALE.
This website is for sale [more info].
You might also like...
monopoly is my world exlusive game in the world and my whole family plays it too all the time. I NEVER CHANGE THIS GAME FOR SOMTHING ELSE!
gabriel
- 2-Jun-11 @ 8:25 PM