Junior Editions of Adult Games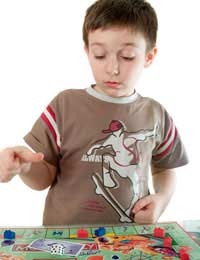 It is hardly surprising that the popularity of certain post teen board games has led to many of these being brought out with the junior player specifically in mind. Some of the more popular junior edition board games will be discussed here including Monopoly Junior, Cluedo Junior, Pictionary Junior, Trivial Pursuit Junior and Boggle Jr.
Playing Junior Edition Board Games
The idea of junior edition board games is so that younger children can play the same games older gamers enjoy, with a lesser degree of difficulty. Some of the junior edition games are also great learning tools, such as Boggle Jr. which teaches children how to spell.
Monopoly Junior
Rather than playing an upcoming property tycoon, Monopoly Junior sees the players running a theme park of sorts, with ticket booths, fireworks displays and more. The same rule applies however, the player with the most money wins, not a great moral message, but fun all the same.
Cluedo Junior
Unlike its adult counterpart, Cluedo Junior does not involve the solving of a murder, but rather the players must work out which pet has taken which toy to the clubhouse. A similar rule system is applied throughout the game, but in its very basic form.
Pictionary Junior
Similar to its adult version, but with easier word cards, Pictionary Junior sees players draw a picture in order for their team mates to guess the word. There are two levels of play within Pictionary Junior, so there are words for every age from 7+.
Trivial Pursuit Junior
The trivia game that swept the planet, Trivial Pursuit is a cool board game where some knowledge of trivia is paramount. Trivial Pursuit Junior has questions tailored to the younger audience, but uses the same basic rule mechanic as its older counterpart.
Boggle Jr.
This simplified version of the game boggle was specially made to help pre-school aged children with their alphabet, spelling and word skills. The cards in Boggle Jr. include not only three and four letter words, but also picture recognition to help youngsters connect the word meaning (ie the card DUCK has a picture of a duck above the word.
Scoring in Junior Edition Board Games
The majority of the junior edition games see the same rules applying for winning the games. In Cluedo players must solve the mystery, in Pictionary players must solve the drawing clues and in Trivial Pursuit answer questions correctly. The main point however with children's editions is to have fun and hopefully learn a little something along the way.
Junior Edition Board Game Variants
The majority of high profile adult board games will have a junior spin-off., As well as all of those covered here, it is also possible to purchase the following games in a junior format: A to Z, Anagramania, Apples to Apples, Cranium, Don't Make Me Laugh, Loaded Questions, My Word!, Password, Scene It, Scrabble, Squint, Who What Where along with numerous other card games.
Junior edition board games are a great way of introducing younger children to a pastime that doesn't involve television or technology led gaming (such as video games). Board games are usually aimed at groups of players, so it is also a fun way of gaining social skills, learning to share and more!
You might also like...