Candyland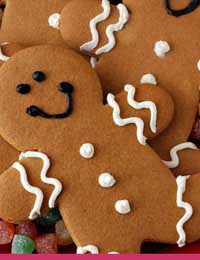 For many parents, getting their children to sit down and engage in something for an extended period of time can prove difficult. Board games very quickly become 'bored' games and the elaborate rules and confusing game play means that young children can't join in. Thankfully there are some board games that are designed specifically for younger children that adults can join in also. Candyland is one of these games and it's been one of the most popular children's board games for many years.
What is Candyland?
Candyland is a brightly coloured board game that, by it's own admission, is 'a sweet little game for sweet little folks'. It's popularity is due, in part, to the fact that there is no reading required in order to play, as everything is colour themed. Basically, players must move their coloured gingerbread people around the board with the aim of getting to the Candy Castle first. The board is a brightly decorated rainbow path and players must make their way through the Peppermint Stick Forest on this path by matching the coloured spaces to the colours they have on the 'pick deck'. The pick deck is a set of cards that have coloured squares on them that match the rainbow path.
Playing the Game of Candyland
The rules of Candyland are very straightforward. You play with between 2-4 players and each player will move their brightly coloured gingerbread character around the board dependent on the card they draw. If they draw a card with a red square on it then they must move to the next red spot on the board. The cards often have other drawings on them that relate to a location on the board. This means that the player may move straight to that location. Some of the locations are known as Chocolate Swamp or Gum Drop Mountain. The areas are all made to be visibly appealing to small children. In some cases, players will be stuck in certain areas until they draw a card of a matching colour. Once the first player makes it past the final square they are considered the winner.
Variations on an Old Classic
In the original release of Candyland, players were able to move forwards and backwards on the board. In modern releases, the backwards movement has been dropped and some of the names have been changed in order to make the game continually suitable for modern times. The Chocolate Swamp was originally known as the Molasses Swamp and Queen Frostine is now known as Princess Frostine. Some players also make their own rules where you must draw the exact colour to land on the finishing square. If you draw a colour that takes you past it, you must keep drawing until you get the exact colour you need. This makes the game last a little longer and can make it more challenging for older children who may be playing with younger ones.
There have been many releases of Candyland since it's inception in 1949. You can buy the game on DVD, on electronic interactive format and also in it's many board game layouts. It continues to be a popular kid's game that teaches children patience, some counting skills and colour recognition. Although the game is far more well known throughout the USA, it can be bought throughout Europe and is considered a great starter board game for small children.
You might also like...