Alternative Card Games for Gamers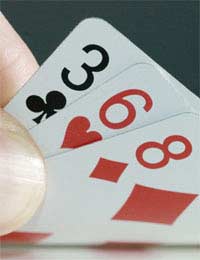 When people think of card games there are generally a whole gambit that will spring to mind. Most of these card games feature a standard deck of cards, with numbers and royalty, but there is a new wave of card game that is making millions of dollars each year and has been since mathematics professor Rich Garfield hit upon an idea in the early nineties.

Garfield was a table-top role-player from way back having always loved games. He started playing Dungeons and Dragons and rapidly became hooked. This love of gaming led Garfield to create one of the most popular alternative card games ever released: Magic: The Gathering.
Magic The Gathering
Magic: The Gathering was released in 1993 via publisher Wizards of the Coast. Since that time the series has seen billions of cards sold, huge organized tournaments taking place all over the world and has become an instantly recognized brand by most RPG gamers, whether they play it or not.

The idea behind Magic: The Gathering is a fairly simple one, but the depth it has garnered in the collectible card game arena is pretty much unsurpassed.
Magic (as it is shortened to) can be played by two or more players. Each player will have her / his own game deck and will battle as powerful wizards until there is a winner. Generally the winner will win cards from other gamers, thus making their own decks more powerful.

It is the collectable aspect of Magic: The Gathering that makes it popular. This lends a sort of flexibility to the game that other alternative card games lack. Magic: The Gathering is also seen as a collectors game, with some cards selling for in excess of thousands of dollars.
Spin-Off Games From Magic:The Gathering
With the popularity of Magic: The Gathering and perhaps also due to the popularity of other collectable card games (Pokemon being one of the more popular), it was little surprise that spin-off games began to appear. Many of these were based in the realm of some popular table-top role-playing games. Most notable of these were the Vampire: The Eternal Struggle (Jyhad) collectable card game and the Call of Cthulhu game.

Other card games made by Magic creator Richard Garfield include the Star Wars card game and cult favourite The Great Dalmuti, which was released in 1995 and swiftly took out the MENSA award for Best New Mind Game.
Other Alternative Card Games
With card game popularity infiltrating many table-top role-playing game stores, as well as many board game stores, some games that were reasonably popular in the early nineties managed to make a come-back to store shelves more recently. One of the most popular in this area would be the Fluxx games. Fluxx is a card game that features an 84 card deck in which the rules for winning change dependent on the cards played. This makes each game played different.

Some of the more popular Fluxx games include: Zombie Fluxx, an amusing game in which the players are prompted to groan like zombies to succeed at certain tasks. There's also Monty Python Fluxx, Martian Fluxx, Eco Fluxx and Stoner Fluxx to name but a few. There are also various expansions and variations available.
Benefits Of Collectible Card Games
The benefits of collectible card games are vast, but overall, the highlight of these games are:
Lots of fun for all different ages
No need to carry around lots of items, just take the pack of cards in your pocket and go
Can be played anywhere
Easy to learn the rules and pass on to others
Plenty of chances to improve your decks and buy new cards from stores
Collectible card games are really one of the easiest ways to have fun in a role-playing situation. With their portability, you can enjoy CCG anywhere and they're relatively inexpensive to get started with. Look for them in your local comic shop, role-playing shop or general hobby shop.
You might also like...