Pocket Games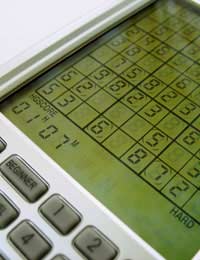 As technology advances, more and more items seem to be getting smaller as their capabilities improve and mimic products of a much larger size. Palm PC's, pocket Nintendo's and Playstation's, mobile phones with impressive graphics - all give you the chance at playing fun immersive games on the move. Let's take a look at some of the best pocket gaming around at the moment, including the platforms they're available on and the actual games themselves.
PDA and Pocket PC's
Many people enjoy having the ability to take their office with them when they're on the move. PDA's and Pocket PC's are more common now than ever, but they're not only used for business. Many are using them with a variety of games such as Sudoku, solitaire, checkers and poker. The beauty of using traditional games on a modern device is that you can always jump back into the game at any point. Also, in some cases you can play against other people who are in the vicinity, or challenge other people across the world through an 'arena' type setup.
Mobile Phone Gaming
Mobile phone gaming is one area of game development that continues to grow at an impressive rate and it is now the norm for new mobiles to come with at least a few games pre-installed.
One of the most popular mobile games of all time is 'Snake' - a title that continues to be popular today. Developers have realised that mobile phone purchases cover a variety of ages, classes and both genders, so they are keen to capitalise on this. For this reason you can now get a huge variety of mobile phone games to download and play on the move.
Mobile phone technology is so advanced that many games that are available are direct replicas of games that were once found on consoles. Games such as Tetris, Pac-Man, Sensible Soccer and Space Invaders are amongst the highest downloaded games on the mobile platform. The ease of having a game on your phone that is available at any time is a great selling point for many people. Popular PC games such as The Sims, Bejewelled, Star Wars all feature as mobile phone download games allowing you to have a game of some depth in your pocket at all times.
Pocket Consoles
Some of the best and most advanced pocket gaming at present can be found on either the Nintendo DS or the Sony PSP. Both are basically consoles in your pocket and are completely self contained with screens, sound and a whole heap of fun. The beauty of pocket gaming systems such as these is that there are a variety of diverse titles available that are sure to occupy any gamer for numerous hours.
One of the most popular series of games on the DS recently has been the Dr Kawashima's Brain Training releases. Accessible for a variety of ages and players, this type of game has helped to bridge the age gap in gaming and many people who would never have considered a handheld gaming device before are now interested in playing. Other popular titles are staple gaming favourites such as Mario Kart, Animal Crossing and FIFA.
Traditional Pocket Games
Whilst it is always nice to embrace new technology and have access to the latest in pocket gaming, many choose to simply remain true to traditional gaming. Sudoku has firmly established itself as one of the most popular games around and having a book of Sudoku in your pocket is sure to occupy most for hours. Other popular traditional pocket games are of course anagrams, crosswords and quizzes. The most important thing is to remember that gaming should be fun and when played on the move should ideally be pick up and play without too much hassle.
You might also like...