Fun Adult Party Games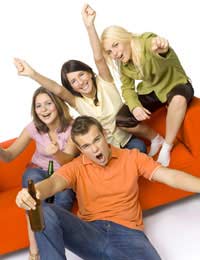 When it comes to adult party games, generally the range can go from extremely innocent to outrageous and wild. Dependent on what type of guests you have will influence the kind of party game you want to play, but the main aim is to ensure all guests are having fun and feel relaxed enough to join in.
G-Rated Adult Party Games
Not all adult party games need to be x-rated and plenty of fun can be had with games that encourage everyone to join in and make a fool of themselves. One of the most popular party games at present is 'Who Am I'. This game involves everyone writing down the names of famous people and putting them into a hat. One player then draws out a random name at a time and doesn't look at it. They stick the name to their forehead to let everyone else see which famous person is written on it. Then they have to ask questions to the group who will answer about the person. The player must aim to guess the name they have on their forehead and if they do so then they win the round and the hat full of names is passed onto the next person.
Another variation on this game is called 'Famous Face'. This can be set up in the same way as 'Who Am I', but this time the player gets to look at the famous name they've drawn from the hat. When they do, they then must act our either physically or verbally who they are and the other players have to guess. These games are great ice-breakers and when the players split into teams it can add an extra element of fun and competition.
If these games fail to catch the imagination of your guests, there's always the perennial favourite of charades. There are very few people who don't know how to play charades and the beauty of it is that you can invent your own rules where all the charades must be acted out in a certain time, or are specific to one topic.
Physical Adult Party Games
For those parties where people know each other a little more intimately, you can start playing some amusing physical games that require people to lose their inhibitions more. A great couples game is called 'Aura'. This is where all players are split into couples and will be competing against each other. Each couple stands facing each other, palms touching and then spin around five times with their eyes closed. They then need to try and find each other's palms again without opening their eyes and have to return to their original spot. This can be great fun to watch, especially when you have plenty of players to confuse palms with.
Another fun physical game is the 'Human Knot'. This is where everyone stands in a circle and each player must reach out and grab the hands of two other random players. You can grab either left or right hands with yours and once everyone has joined hands, you must all try and untangle the knot that you've created. The rules are very simple. You're not allowed to let go of another player's hand and must crawl over and under each other in order to eventually return back to the original circle you were in. It can be done, with much hilarity and perseverance. If all else fails, the always popular kids game 'Simon Says' can be adapted to be played as an adult game with some more risqué adult related themes.
Grown Up Party Games for the Willing
Even adults will take great joy in playing the game 'Truth or Dare', so long as they're in close company that they can trust and feel relaxed with. An extended version of this could be spin the bottle where it makes the likelihood of being chosen far more random. There are plenty of adult games that can be played by those with an open mind.
The 'Kissing Game' is a game where you stand in a circle and alternate boy-girl-boy-girl (or if you're gay, don't alternate!) in the line-up. You then start by giving someone a card and they have to pass it to the next person in line using only their mouths. Very often this will lead to kissing the next person in line, so make sure you're comfortable with the people around you. The aim is to make it all the way around the circle without dropping the card.
Another good game to play at an adult party is 'Lap Stack'. This is a game where every player sits in a circle on their own chair. Someone in the centre is the question master and must ask everyone the same questions. You can make your own questions up should you wish. When someone answers yes to a question, they must move to the right. The questions continue to be asked and eventually you'll end up with 3 or 4 people all sitting on top of each other on one chair. The aim of the game is to make it back to your original seat where you will be declared the winner.
Adult Party Games
As you can see, adult party games cover a wide range of experiences and should really be chosen dependent on the situation and the players involved. You will know your own party guests best and will know what suits them. Don't be afraid to try new things, it'll often result in the best party experience and will allow your guests to mingle more freely.
You might also like...
An interesting discussion is definitely worth comment. I do think that you ought to publish more about this subject, it may not be a taboo subject but generally people don't speak about these subjects. To the next! All the best!
https://bestdarknetm
- 18-Sep-21 @ 3:35 AM
I like the suggestions, however I think you could have broaden the imaginationas far a Getting to know what kind of games are really playing. I think with a little more research your website would be a lot more interesting. Thank you for giving Me the opportunity to give my opinion
tina
- 9-Aug-12 @ 10:49 AM